St. Louis Aerial Collective was founded in 2018 by Alison Headley and April Silverman, two riggers and aerialists who wanted to build a circus space for people of all ages, shapes and sizes. Alison took over the business in 2022.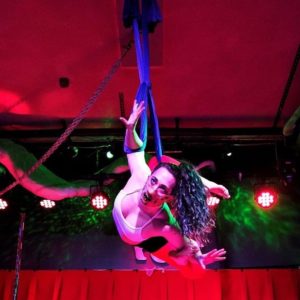 Lindsey's background in gymnastics, cheerleading, and yoga made it so falling in love with aerial as an adult came as no surprise. You'll find that her aerial classes focus on playful movement, body awareness, and mobility as she encourages you to develop strength and your own creative expression. Lindsey is best known for her love of Slings and handstands, but she can often be found playing on other apparatuses, as well. She has trained on Rope, Silks, Dance Trapeze, Hoop, and Static Trapeze; performed locally in a few shows; and is excited to continue evolving on each apparatus.
If she's not practicing aerial, you'll probably find her napping with her beloved cat, Scout.
Photo by Jason Tucker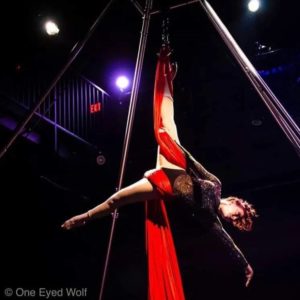 Kelly Cunningham is a St. Louis born and raised aerialist. She has been a fan of movement since childhood and loves exploring all types. Anything dance related and athletic are her favorites. Naturally, aerial arts was the perfect marriage upon taking her first class in 2015. She loves getting to be curious and have a place where adults have a creative outlet. Her specialties are the aerial silks, corde lisse (rope), and hoop. You can occasionally find Kelly performing and producing aerial shows in STL. Tell your dog she says hi.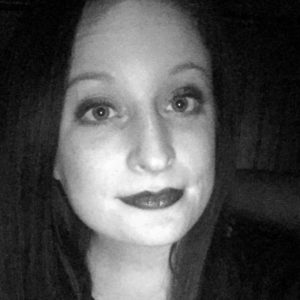 Katie grew up dancing at a small dance studio in St. Louis. In high school, she discovered her love for aerial when a touring aerialist taught a few workshops at her studio. She continued to dance throughout her college career and was able to return to aerial during the summer breaks. After college, Katie focused her training on silks, but she loves to play on all the aerial apparatuses. Aerial has become something that inspires her and something that she is always excited to share with others. "Once you have tasted flight, you will forever walk the earth with your eyes turned skyward." -Leonardo Da Vinci
Alison Headley grew up in Texas, and lived in Houston and Austin before making her way to St. Louis. She's spent her career as a web and graphic designer and front-end developer, but she's also worked professionally in writing, editing, photography, social media, blogging, sewing, and jewelry production and design.
Alison found trapeze in her late thirties and discovered a love of exercise, performance and act creation she never knew she had. She has received aerial teacher training from Born to Fly™ Aerial Teacher Training, and additional training in trapeze, handstands and acrobatics from École de Cirque de Québec.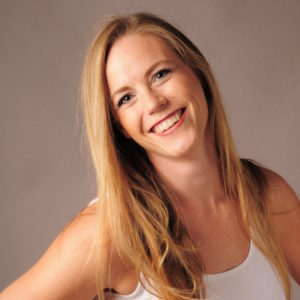 Claire Hilleren is from St. Louis and received her BFA in Dance with a ballet emphasis from Webster University in December 2008. Webster University is where Claire caught the aerial bug through working with Monica Newsom on Aerial Silks. After graduation Claire continued her aerial training at Bumbershoot Aerial Arts, doing ambient and choreographed gigs in St. Louis. Claire has attended both the Aerial Dance Festival and the American Dance Festival to further her dance and aerial vocabulary. Taking classes from dancers/choreographers; David Dorfman, Ohad Naharin, Mark Haim, Abby Yager, Ishmael Houston-Jones, David Brick, and Yvonne Meiers and aerialists; Kevin O'Connor, Danielle Hendricks, Alex Allen, and Susan Murphy. Claire joined the Modern American Dance Company in the Fall of 2009 and continued until June 2018. Claire has gotten the chance to choreograph on MADCO, MADCO 2, University of Missouri St. Louis Dance Department, ambient and choreographed aerial gigs, El Monstero Winter and Touring Performances, and Music Videos.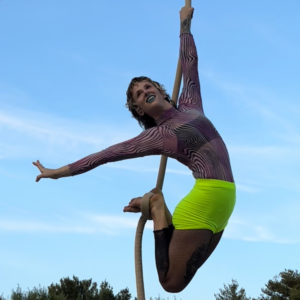 Helen's background in dance, yoga, and swimming inform their aerial practice and classes. They specialize in Sling/Hammock and Dance Trapeze. Helen enjoys finding intentional shapes and pathways on any apparatus, building aerialists' choreography vocabulary, and providing ground conditioning/mobility support for efficiency and ease in the air. They find aerial a powerful form of non-verbal expression, and are excited to teach, share and collaborate!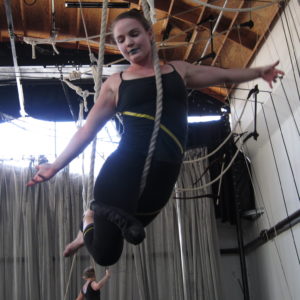 I was first introduced to aerial arts on single point trapeze about 10 years ago in Athens, GA. I studied at Canopy Studio in Athens, GA until November 2014, when I moved to St. Louis. After moving to St. Louis, I began taking classes at Bumbershoot Aerial Arts. At Bumbershoot I have been able to explore static trapeze and rope and expand my aerial vocabulary. I have always enjoyed teaching and took the Bumbershoot teacher training in summer 2015, then took a Nimble Arts teacher introductory teacher training in 2017. I have been lead teaching beginning level silks and slings since 2017. I have also taught 2 introduction to dance trapeze workshops. Dance trapeze remains my favorite apparatus. The thing I love most about it is that it behaves like a mixture of static trapeze and silks.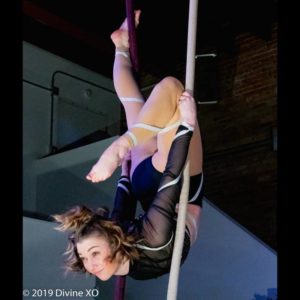 Coming from a tumbling, cheer, and equestrian background, Christine was never into any traditional sport that requires you to kick, catch, throw, or run. When she left her cheer and equestrian teams after college, she was disappointed that there was no such thing as "adult recreational stunting," so she found the next best thing: circus arts. Christine trains silks, lyra, and rope, and enjoys creative partner work. A teacher by profession, Christine has also completed aerial teacher training from Bumbershoot Aerial Arts. She loves helping students troubleshoot "sticky" skills and reach their goals.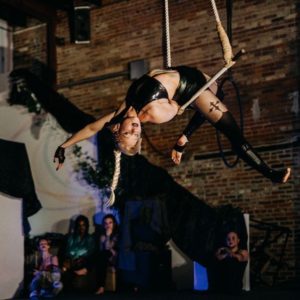 Sandra Manzoni is an aerialist based in St. Louis, Missouri. In 2006 she was first introduced to circus arts by a high school friend in Paris, France and found that she was an enthusiastic but terrible juggler. Then she met a Trapeze and fell in love. She's been taking classes, teaching, and performing aerial arts ever since.
Sandra has both taught and taken classes from Circus Day Foundation and from Bumbershoot Aerial Arts. She has taken classes and workshops through NECCA, Frequent Flyers, Aircat Aerial Arts, the Circus Center of San Francisco, ALOFT Circus Arts, Circus Flora performers and from ENC graduates.
Having performed both as a freelance aerialist, and as a traveling member of the Beggars Carnivale, her specialties include Static Trapeze, Single Pointe Trapeze, Aerial Silks, Corde Lisse, Aerial Hoop, Stilt Walking, and Silent Comedy. She collects rubber ducks and marbles. Plz consider inviting her to be in your DnD campaign.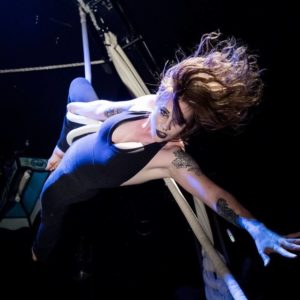 Rainy Moss is an STL native who got their start in aerial in the Pacific Northwest almost a decade ago after they randomly shared a private lesson with a friend and just never looked back. They specialize in momentum, simple but meaningful choreography, and storytelling through movement. With many years of experience and an eye for creative, out-of-the-box ideas, Rainy is thrilled to have the opportunity to share their knowledge and to help others find their 'voice' in movement.